Top 10 Things to Do in Italy
Traveling to Italy? We will show you 10 interesting places you should see when traveling to this beautiful conutry. And don't miss Google Maps with all the suggestions at the end.
NUMBER 10: Sicily
Sicily is the largest island in the Mediterranean Sea and a one-of-a-kind destination offering an array of cultural, historic, art and natural marvels.
Mount Etna, one of the most active volcanos in the world with the elevation of over 10,000 ft, is the tallest volcano in Europe. Valle dei Templi, the archeological remains of seven ancient Greek temples tell a story of Sicily's rich history. Don't miss also Giardino Della Kolymbetra in the heart of the Valle dei Templi which is a rare archaeological and agricultural jewel. Beautiful towns such as Taormina with its Ancient theatre and breathtaking views, ancient Syracuse rich with archeological sites, or beautiful Marsala in the west, famous for its windmills and Marsala wine, are just some of the examples of what this beautiful island has to offer. Don't forget to visit the state capital Palermo which is more than 2,700 years old and explore the filming locations of The Godfather such as the picturesque village of Savoca in the East where you can't miss the Bar Vitelli and order delicious Sicilian cannoli.
And, of course, don'tforget to visit one of many natural wonders around the island such asSan Vito lo Capo, Lo Zingaro, Mondello, Gole Dell'Alcantara, Isola Bella, ScaleDei Turchi and many more. And smallersurrounding islands such as Lampedusa or the Vulcanic islandsLipari.
👉 GoogleMaps with more suggestions: http://bit.ly/2MUznKQ
NUMBER 9: Alberobello
Alberobello is a unique village located in Apulia, in the South of Italy. The village is famous for its traditional small stone huts with a conical roof, called trullo. Trulli were constructed as temporary shelters for agricultural workers and as storage units, as well as permanent dwellings. Many times, there may be a Christian symbol painted on the cone, however, the symbols visible today were only painted in the late twentieth and beginning of this century.
While no one knows where trulli originate, historians estimate that the first trulli date back to prehistoric times. The building technique was probably developed due to the specificgeographical conditions such as the abundance of limestone in the area.
The trulli of Alberobello have been designated as a UNESCO World Heritage site. Trulli are common in the entire province of Bari, worth exploring for similar historic sites and beautiful shoreline.
NUMBER 8: Amalfi Coast
Amalfi Coast is a picturesque Italian coastline located one-hour drive from Naples and about three-hour drive from Rome. The enchanting coastal road takes you through charming little towns, wrapped between the sea on one side and high hills with beautiful vegetation and flowers stretching directly above.
Stay in one of many unique hotels in Positano, Amalfi's most picturesque town, take a boat ride along the coast to experience Amalfi from the other side, and hike to the Footpath of the Gods, a panoramic ridge above Positano. Dine at a local restaurant and finish the meal with a glass of traditional liquor made from Amalfi lemons called limoncello.
The island of Capri is also located nearby and makes for a great one-day trip. And stop in the town of Ravello if you want the best views of beautiful Amalfi Coast.
NUMBER 7: Pompeii and Mount Vesuvius
The ancient Roman city of Pompei, located just outside Naples, was buried under volcanic ash in the eruption of nearby Mount Vesuvius in the year 79 AD. Hidden under 13 to 20 ft of volcanic ash and later excavated, the city of Pompei was largely preserved and offer a glimpse of what life in Roman era was like. Pompeii was rediscovered as a result of the excavations in 1748. The excavated sites include a large amphitheater, countless villas and gardens, streets, and other buildings offering an interesting insight into art and culture of Roman civilization.
Mount Vesuviusstill remains a dangerto nearby inhabitants, especially because the area is densely populated. Withover 3 million people living in the proximity of the volcano, this makes it themost densely populated volcanic region in the world.
Pompei is one of the most popular tourist attractions in Italy with approximately 2.5 million visitors each year.
NUMBER 6: Rome
Rome is the capitalof Italy and one of the oldest continuously occupied sites in Europe. Whilethe founding dates in Roman Mythology mention the year 753 BC, the area waspopulated much before that. Asa result, Rome is one of world's most archeologically rich cities.
Just walking in thecity center, you can enjoy the ancient ruins of Roman Forum, Colosseum, CircusMaximus, or Pantheon, a former Roman temple and now a Church. Don'tmiss other more modern (but still historic) attractions such asthe Trevi Fountain, Altare della Patria,or Spanish Steps. Rome has a lot to offer.
Located within the city of Rome is also Vatican City, which is actually an independent country and the seat of Roman Catholic religion. Visit the Vatican Museums, an impressive collection of art and historic artifacts.
👉 TOP 10 ROME Video: https://youtu.be/iyz9pBv1bHc
NUMBER 5: Civita di Bagnoreggio
Civita di Bagnoregio,sometimes also referred to as the dying city, is an ancient town, located about75 miles from Rome and founded by Etruscans over 2,500 years ago. Thetown is located on top of a plateau consisting of volcanic tuff and is inconstant danger of erosion.
Over the centuries, erosion completely isolated the town, so no new construction was possible. As a result, and because the town was able to withstand intrusions, the architecture was completely preserved and walking the streets of Civita di Bagnoregio takes you back in time.
The town is nowaccessible by a long pedestrian bridge and you can visit oneof the authentic restaurants or even book a room in one of the bed and breakfastplaces.
NUMBER 4: Tuscany
Tuscany is a famousItalian region, located in the center of the country, known for its beautifullandscapes, history and art mostly belonging to the Italian Renaissance. Tuscanyis also an important wine region, home to popular Chianti wine and otherimportant wine sorts.
Driving through Tuscany you can experience a number of important historic towns and cities, starting with Florence, the capital of the region and famous for its Renaissance masterpieces. Sienna, a city known for its medieval brick streets, Pisa with its leaning tower, or beautiful San Giminiano, are just a few examples of what awaits you on your next Tuscany road trip. You can rent a car and drive around Tuscany's historic towns and stop on the way in places like Radda in Chianti where you taste their excellent wine and culinary masterpieces.
NUMBER 3: Cinque Terre
Cinque Terre, or in English Five Lands, is a portion of the Italian coast on the Italian Riviera consisting of five picturesque fishing villages. The rugged and steep terrain around the five villages was ingeniously used to build terraces to cultivate grapes and olives, creating an enchanting landscape.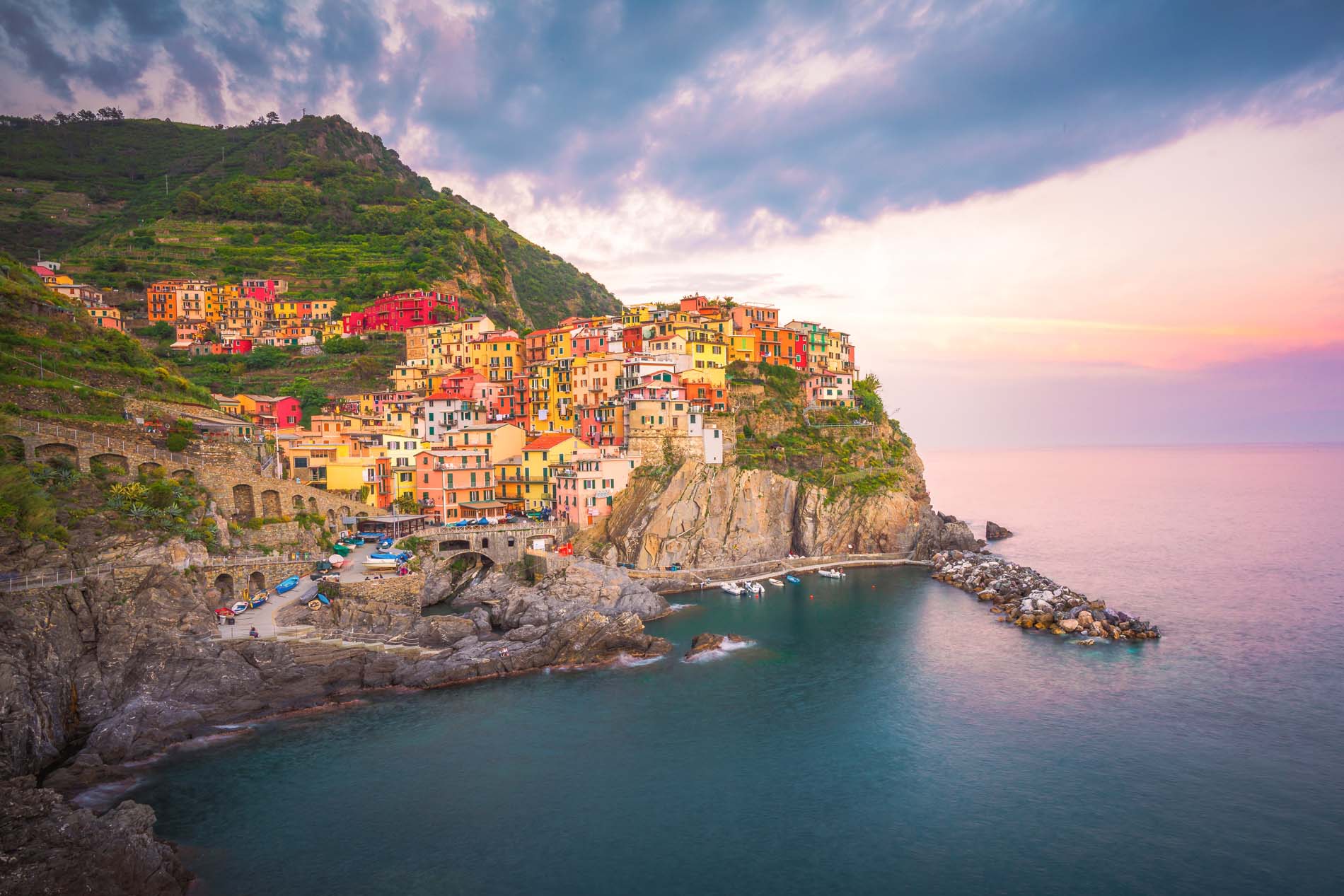 The entire area of Cinque Terre is a UNESCO World Heritage Site. The five villages are connected to each other by train and hiking paths. You can make a combination of a train ride and a hike so get to beautiful vistas and, of course, visit all five towns which are unique also because of their colorful facades and authentic Mediterranean architecture. Alternatively, you can also take a boat ride along the coast and enjoy the view of Cinque Terre from the sea.
Don't miss the nearby port city of Genoa, known for its historic contribution to maritime trade.
NUMBER 2: Lake Garda
Lake Gada is the largest lake in Italy, located on the edge of the Dolomite mountains. It is a popular holiday destination and because of its mild climate offers an array of outdoor activities in the spring, summer, and fall.
You can explore one of the 25 villages located along the picturesque Gardesana state road, and don't forget to visit Sirmione, a popular resort town located on a peninsula on the southern bank of the lake and nearby beach or visit Grotte di Catullo, an ancient Roman Villa.
Lake Garda is also home to Gardaland, one of the top amusement parks in the world, attracting over 3 million visitors a year.
Italy offers othersimilar beautiful lakes like Lake Como, close to Milan, and others.
NUMBER 1: Venice
Venice is a city located on the Adriatic coast in northeastern Italy, built on over 100 small islands separated by canals and connected by over 400 bridges.
In the Middle Ages and Renaissance, Venice was a city-state with major financial, commercial and maritime influence and is considered to be the first-ever international financial center.
Get lost in one ofthe numerous beautiful streets of Venice, explore canals and small squares,discover the St. Mark's square and climb the Campanile offering an amazing viewof the Venice lagoon. And,of course, don't forget to ride the famous Venetian gondola.
Venice is also known for its glass and glass products that have been made for over 1,500 years on the Venetian island of Murano.
Venice is also home to several prominent international events such as Venice Film Festival or the Venice Biennale of Architecture.
If you are there for the world-famous annual Venetian Carnival, which usually takes place in February or March, you will be able to see world's most elaborate Masquerades.
We created a Google map with all the suggestions
Italy offers many other incredible attractions such as beautiful mountains in the Alps, fashion capital of the world Milan, beautiful island of Sardinia, famous for its white sand beaches, the microstate of San Marino, Tropea, Rimini, and many other amazing places.
Do you have your favorite destination in Italy, or have you been to one of the places we presented in this article? Share it in the comments below.